Latest News
Inventing the World by Meredith F. Small
Release Date: 12/2020
"An epic cultural journey that reveals how Venetian ingenuity and inventions—from sunglasses and forks to bonds and currency—shaped modernity.
How did a small, isolated city—with a population that never exceeded 100,000, even in its heyday—come to transform western civilization? Acclaimed anthropologist Meredith Small, the author of the groundbreaking
Our Babies, Ourselves
examines the the unique Venetian social structure that was key to their explosion of creativity and invention that ranged from the material to social."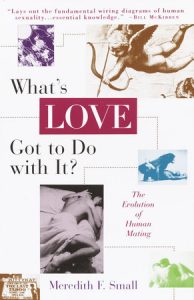 "In elegant, engaging prose, Meredith Small shows the mother-child relation to be a microcosm of society"
"[Small's] concise, readable treatment of cross-cultural differences in child-rearing will interest everyone from high school students to grandparents, with or without children."
"Lays out the fundamental wiring diagrams of human sexuality ... essential knowledge"